Right vehicle, Best price, Work ready
4WD All Terrain Vehicle
Versatile ATV vehicles for your farm, vineyard, orchard or lifestyle block.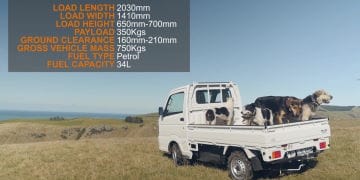 A super versatile vehicle offers a real alternative to a quad or side by side. Reliable and economical not to mention safe and comfortable, with low maintenance/operating costs – ask anyone that owns one! All of our Farm Trucks come with the following included in price:
ATV Tyres
Towbar
Undersealed
Hardwood deck (removable)
Serviced
A long list of options and or configurations are available with these vehicles We can supply Tippers, Flat decks, Tail lifts, Road Legal on certain models and in a variety of different branded names – Nissan, Mazda, Mitsubishi, Daihatsu and Honda Great alternative to a quad bike or side by side
Specifications:
Folding sides
Deck 2100mm x 1410mm
Payload 350kg, tow 650kg
Fuel tank 34 litres factory options
2WD or 4WD
Manual or automatic
Manual with HiLo trans
Air conditioning
Power steering
We can have one of these trucks on your farm for as little as $13,000 through to brand new at around $28,000 inc GST.